My name's Nancy and I am a wedding and portrait photographer serving Vancouver B.C. and beyond. I love love love being a hype girl for all my couples and 100% love celebrating them on their wedding day. As much as I take my work seriously, each wedding and occasion that I get to witness is a true privilege and it's so heartwarming that I get to be a part of these milestones! Also, I'm a sucker for the dance floor, so if you're planning a party that includes some of that wiggly jiggly music, you best believe I'm gonna be out there gettin' jiggy wit it with the rest of your friends! And often, when going through photos weeks after the wedding day, I'll find myself smiling as I'm prepping a gallery for delivery because all those emotions come rushing back. I'm all in with my couples and clients.
Besides that, you can find me at home with the hubs cuddling on the couch watching Grey's Anatomy, The Bachelor, or anything on Food Network. If it's summer time, then there's a small chance I'll be out hiking with friends or a much larger chance I'm chilling on the patio with the girls, a sweet glass of sangria and a homemade charcuterie board (Cheese, bread, and wine? Yum!)
And if after all this you only remember three things about me, I want it to be this: I love Jesus, I love my husband, and I love my job, in that order. Jesus took hold of my life when I was 12 and I've never looked back. He is the backbone of everything I do, in work, in love, in life. Finding a good balance between home life and work life is always important and that's why I gotta keep some time reserved for my husbabe even through that busy season! More on our love story later…But my number 3 is my work, it's you guys. With each project, wedding, and session, I'm all in. The goal is always to stay true to the people in front of my camera, capturing them the way they are, and to uncover the real and raw beauty that every couple shares.
Our love story started in grade 12…when we were basically children at the age of 16, and it was that year that we had 7 out of 8 classes together. English class was one of my faves! So you could say I was a bit of a keener and after Derek learned this, I'd be the first place he'd go to find the answers for any group work…But after awhile, I could count on him saving me a seat there and we would have a routine of chatting on Facebook messenger after school…little did I know that by the end of the year, he'd be putting a corsage on my wrist and we'd be going to the grad dance together (our school didn't have a prom…LAME) and about a week after grad, we made it official and started dating. So, can you really say we were high school sweethearts? We technically got together after grad.

At the tender age of 20, we both knew we'd found our favourite person and why wait? So, in May 2015 on a bench in Stanley Park, I said yes to marrying him! We had a sunny July wedding in 2016 with 160 of our closest friends and family in attendance. Life since then has been filled with road trips, renovations, lots of Netflix, and daydreaming about our future dog.
Take a look at some behind the scenes…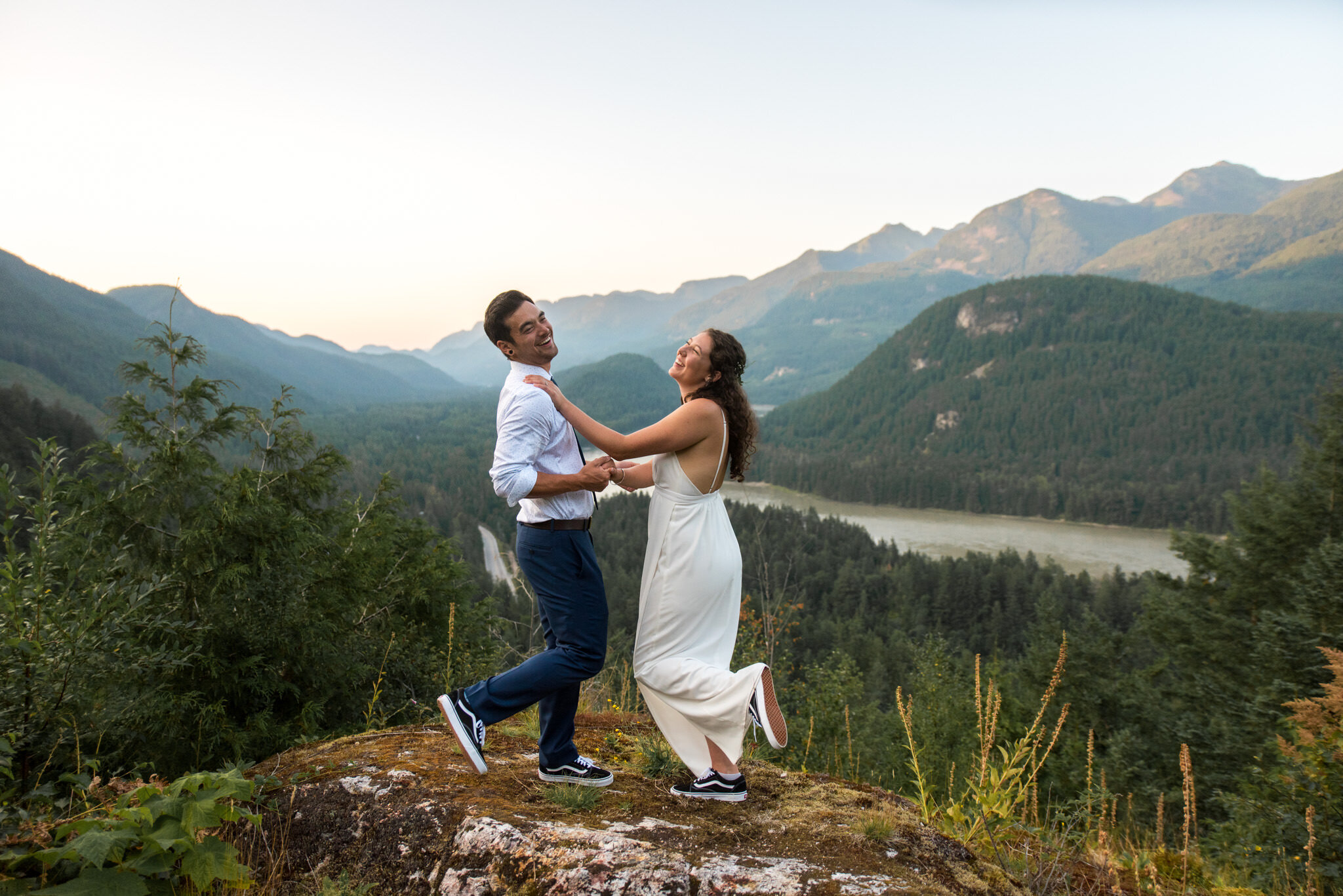 "the perfect element of silliness"
My husband and I are so grateful to have found Nancy! Our meeting totally sold us on her services. She wanted to know all about our vision, our love story, and what we wanted to see in our pictures. Nancy took our vision and added her creativity for our engagement shoot. We loved our photos, and so did everyone else! Then, she captured our wedding perfectly. Our pictures are fantastic and she made the experience comfortable and fun with the perfect element of silliness. I initially expressed concern about the photo shoots, I don't like having my picture taken, but Nancy assured me that one of her favourite things is to make people feel their best, and she did! Nancy is fun, professional, and creative. Thank you for making our day so special.

- Jordyn + Zay